For weddings and receptions the garden is divided into the East and West Side. Venue options include a variety of gardens, lawns, pavilions, a beautiful sandstone chapel, and two permanent reception tents that feature a stage and dance floor.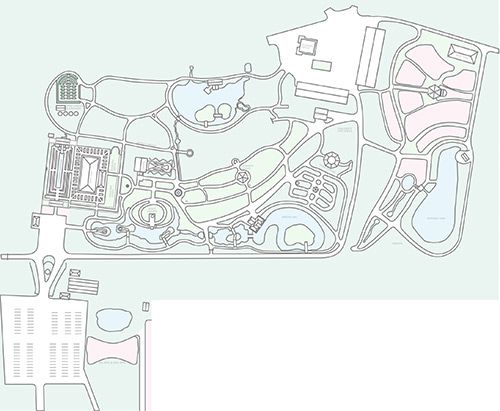 Click a venue's image below to jump to its Pinterest board.
EAST
Channel Garden

The Channel Garden has majestic fountains, tiered walkways and two 700 square foot covered and furnished pavilions. Chairs may be placed along the tiers for seating up to 400 guests. photo credit: Mikka Hill Photography

East Tent

This spacious 6,000 square foot permanent facility is a supreme reception space at Clark Gardens. Surrounded by antique roses, this beautiful facility has views overlooking the Channel Gardens. The East Tent includes chandelier lighting, a permanent stage, dance floor and bar area which can accommodates up to 300 guests. photo credit: Victoria Liu
Bowling Green

This Bowling Green serves as a classic lawn setting and is beautiful for any occasion. The lush, grassy area is bordered by a rose covered arbor. At approximately 5,000 square feet this spacious and open site can easily accommodate up to 400 guests. photo credit: Sara Kate Photography
Chapel

Natural light streams through the windows and beautiful stained glass of our picturesque sandstone chapel. The pews accommodate 80 guests and chairs can be added to seat up to 100. Photo credit: Grant Daniels Photography
Chapel Lawn

Multiple pathways and lawns create an enchanting atmosphere for any event. Surroundings include the serpentine wall of the Meditation Garden, Lions Head Fountain and White Garden. This location accommodates up to 300 guests. photo credit: Ben Q Photography
WEST
Summer House Lawn

Enjoy the serene setting of Summer House- a large open top gazebo with tables and seating amidst a large, treed lawn. A featured fountain and colorful hanging baskets are what make this location picture perfect. Receptions on Summer House Lawn include a dance floor and café lights. This location can accommodate up to 150 guests. photo credit: Ben Q Photograph
Rose Pavilion

Surrounded by the scent of roses, the covered arbor leads up to a 1,000 square foot pavilion. The facility's waterfall is the perfect backdrop for any event. The lighted pavilion has tables and chairs, ceiling fans, large countertop and sink. There is ample room for additional seating on the lawn surrounding the pavilion. The location can accommodate up to 115 guests or 150 guests on the lawn.
West Tent

The west tent is a 5,000 square foot permanent tent amidst the Iris and rose beds. It includes chandelier lighting, a stage, a dance floor and bar area: which accommodates up to 150 guests. photo credit: Ashley Monogue
PAVILIONS
Oxbow Overlook & Lake Pavilion

Enjoy the intimate feel of Oxbow Overlook or Lake Pavilion. Water fountains add an elegant feel to the covered roof structures. A built-in buffet area for convenience along with iron tables and chairs makes these locations ideal for intimate events. Colorful hanging baskets and water lilies add to the ambience. Oxbow Overlook and Lake Pavilion can accommodate up to 75 guests for a ceremony and/or a reception. The wild life of ducks and turtles add a fun sight to see for all ages as well. photo credit: ee Photography
What's Included
Clark Gardens Features:
East
West
Pavilions
Twelve hours of access on the day-of
Six hours of access on the day-of


White wood garden ceremony chairs (set-up and removal)
Iron tables and chairs
Bridal dressing room
Groom's dressing room
Clark Gardens staff member on site
Shuttle guests to and from venue location from the main parking lot
(shuttle starts 30 minutes prior to ceremony)
Trash removal
One hour rehersal (during Garden business hours)
Access to gardens for engagement and/or bridal portrait session