A True Hidden Gem
Clark Gardens is a true hidden gem in the North Texas Hill Country and is the perfect garden for your perfect day. The 35-acre public botanic garden is tucked away down a country road between Weatherford and Mineral Wells, just outside Dallas/Fort Worth. Clark Gardens offers a variety of venues for weddings and receptions, including two permanent reception tents and a breathtaking sandstone chapel, all creating the ideal location for an unforgettable event. Each venue showcases its own charm with European-style fountains, waterfalls, blooms bursting with color, and nature in every corner. Whether you're planning an intimate gathering or a black-tie affair, Clark Gardens provides a natural beauty and classic elegance that cannot be matched.

Built Around A Love Story
Clark Gardens was founded on the blooming love story of Max and Billie Clark. When it came to their mutual love for gardens and nature, Max built anything Billie desired- She served as much of the inspiration for the gardens, lakes, pavilions, and fountains seen at Clark Gardens today. Billie passed away in September 2012, just a few weeks short of their 62nd wedding anniversary. Today at 86 years old Max continues his labor of love by working in the garden daily and carrying on what he started with his bride in 1972.
Billie left a legacy of beauty to North Texas- Clark Gardens has become an oasis to thousands year-round and is the starting point for couples as they begin their journey in marriage in the very spaces Max and Billie built together.
A Step Above The Rest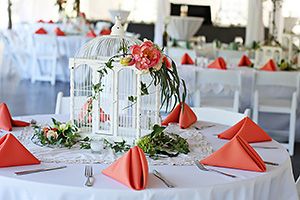 When it comes to service, Clark Gardens stays a step above the rest.
With exclusive use of your venue(s) you enjoy privacy on your special day. Clark Gardens closes off your rented area to daily guests.
Clark Gardens does not charge taxes or gratuity fees. Other venues charge 18-25%.
Clark Gardens staff is on site the entire duration of your event. Our staff members greet and supervise your vendors as they arrive, shuttle your guests from the garden parking lot to your ceremony and reception venues, as well as remove trash and clean the facility.*

Schedule your tour and see why Clark Gardens is the perfect garden for your perfect day!
*Clark Gardens staff is not responsible for removing catering or equipment, outside rentals, decorations, or client belongings.