HELLO!!
Now that I've been the new Events Manager for over a month and I've finished catching my breath I feel it's time to properly introduce myself.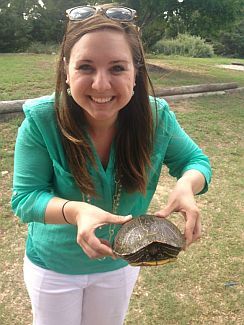 My name is Chelsea Brookshire- a Granbury girl, 2009 Tarleton State University graduate, and newlywed! I love good music, good food, and good laughs. I am passionate about my marriage, church, work, and serving people. Helping make the planning process easier for brides (and their families) is a perfect fit for me since I just experienced the fun and exhausting season of my own. And I LOVE being married! So what better job for me than to help couples start the amazing journey with a day celebrating their commitment?? I love it. I love everything about it.
I adore spending each day at Clark Gardens for a MULTITUDE of reasons: Each trail has its own smell; the peacocks provide their own form of entertainment; we sell water lilies; the garden is gorgeous year-round; the staff is a family; and people love being here! Clark Gardens is a hidden gem; a true oasis where you can escape the city, discover something new, and experience our piece of Heaven.
Whether you are a bride, family or friend, a vendor, love the gardens, or just love weddings I encourage you to like our 'Clark Gardens Weddings' Facebook page. We will be posting wedding trends, fan questions, pictures of our weddings, and start really getting to know our clients. We're going to be following them along the way to the big day! So join us. Help us celebrate their journey!