Sara and Blake are a sweet, precious couple whose love for each other is instantly recognizable. Their wedding day was full of personal touches from handmade signs to a choreographed bridal party dance, and these two lovebirds enjoyed every minute of it. Looking through their photos captured by K & S Photography, you can see the joy and love wrapped in this day!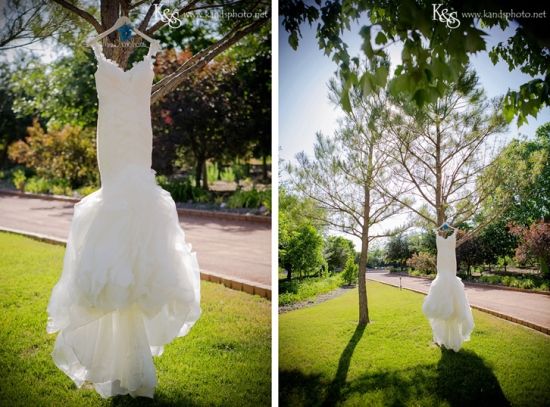 Sara's color scheme was purple and white with a hint of peacock, which always works well at Clark Gardens! The garden is home to a variety of wildlife- an elegant swan named Doc, Canada geese, ducks, turtles, blue herons, guinea fowl, and gorgeous peacocks. Moments before Sara walked down the aisle a guinea ran across the ceremony pathway- As a newly vet school graduate, Sara's face lit up with delight!
The ceremony was held at the Rose Pavilion in the West Garden. Our white garden chairs fanned out across the lawn of the pavilion and guests were able to see Blake and Sara's darling faces as they spoke their own written vows, which brought everyone to tears, including us. The Rose Pavilion waterfall added a beautiful sound to the ceremony.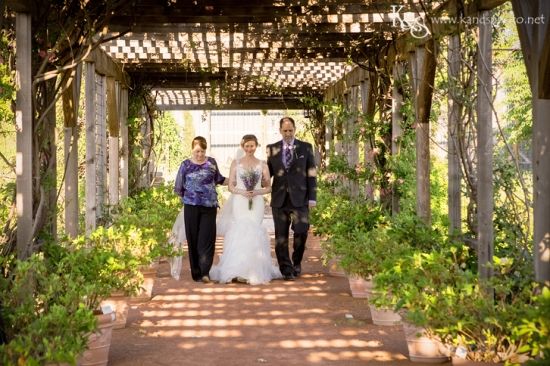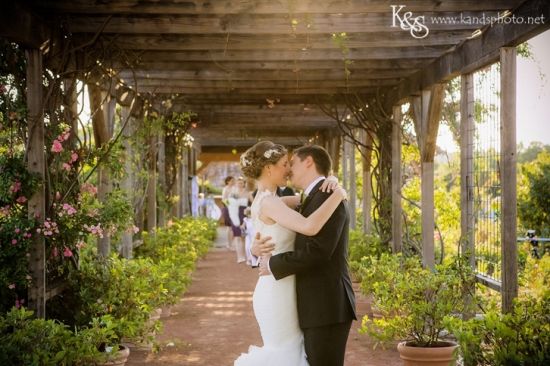 The purple and white bridesmaid's dresses were classic. Simple, yet elegant and the girls' bouquets, by preferred vendor Penny's Flower Shop in Mineral Wells, were a perfect addition.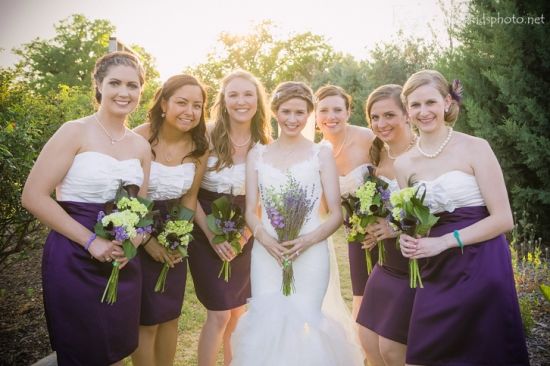 After the ceremony Sara and Blake took the most beautiful pictures in the sunset light of the West Garden. One of our many favorites is of the newlyweds standing amidst the double-ruffle poppies. The poppies are stunning in full bloom showcasing a sea of pink along the West garden.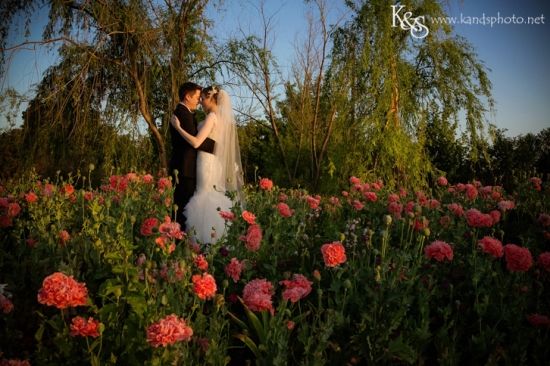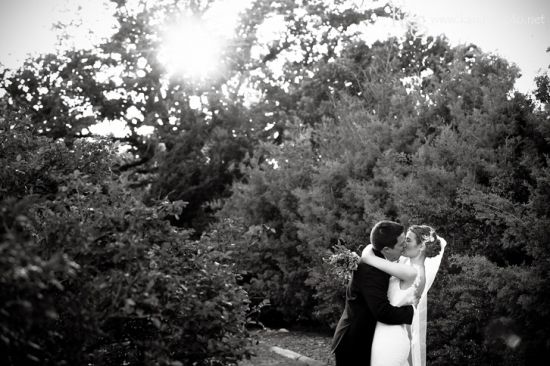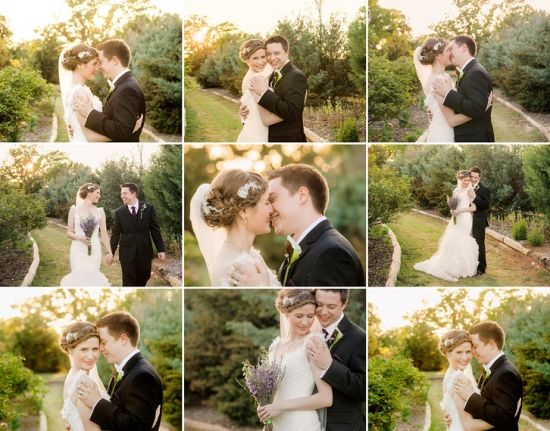 The reception was held on Summer House Lawn and it was a blast! Joe T. Garcia's catered the reception and worked like a well-oiled machine. From the time they arrived to the time they left, Joe T's staff cooked and served fast and professionally. They did a fabulous job!
Thomas Smith with Smith Audio, also one of our preferred vendors, set out purple up-lights at the bottom of the crepe myrtles that gave the garden reception a big something-extra. Also, included with Summer House Lawn at Clark Gardens is a dance floor with a canopy of café lights that really makes the lawn feel like a party!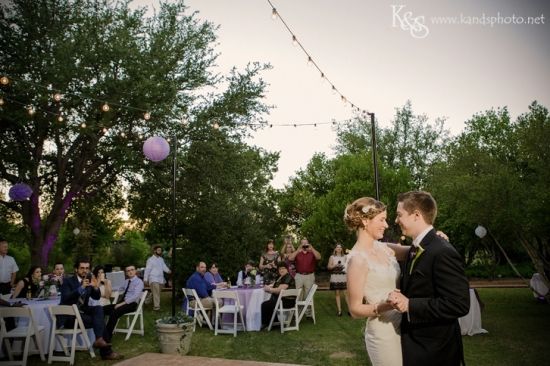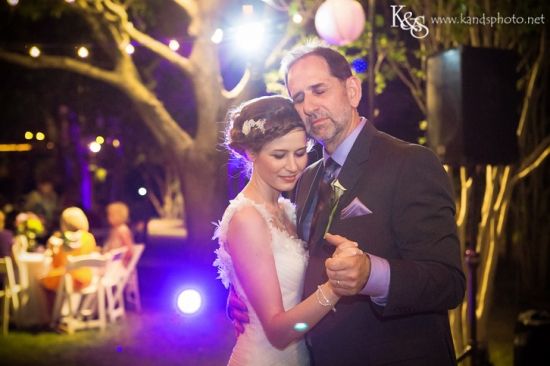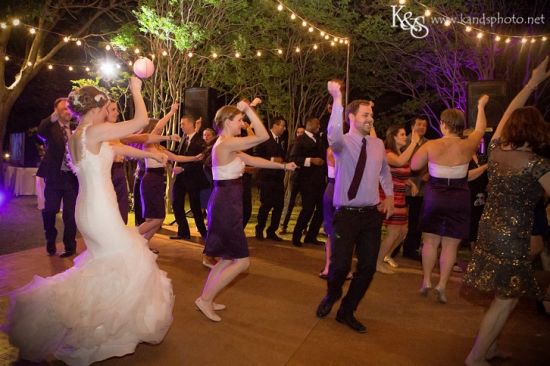 In Blake's vows he said "we have been through four graduations, four years of a long-distance relationship, across two states in two different time zones, and it has been worth every minute of the wait." *cue tears.*
We could not be happier for these two darling individuals. The wait is over!
Congratulations and Best Wishes, Blake and Sara!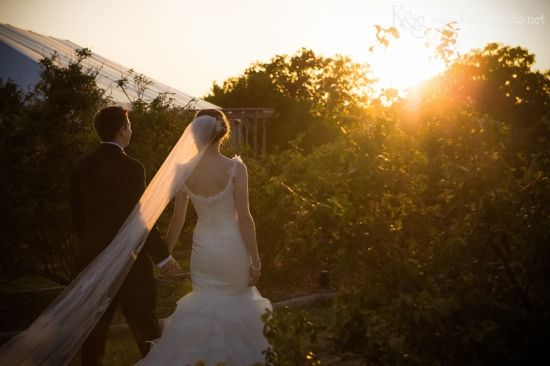 Catering: Joe T. Garcia's
Event Coordinator: Monica De Los Santos
Floral: Penny's Flower Shop
Music: Thomas Smith, Smith Audio
Photography: Shauna Wyatt- K & S Photography
Videography: Hunter Starnes- Take 4 Studio